We've Moved!
Continue to read our thoughts on how to
get free of eating, exercise and weight worries
at our new location: AWeightLifted.com.
« April 2008 | Main | June 2008 »
May 15, 2008
Healthy Recipe: Grilled Asparagus with Parsley Lemon Pesto
Spring is asparagus season. Although available year round, it tastes best at this time of year -- and it's at its best price. All it really needs is a little sprinkle of olive oil and lemon pepper to be truly delicious. But for a change of pace, try this lighter version of pesto – it's one healthy recipe that's a real crowd pleaser!
A healthy eating food, asparagus is one of nature's true food heroes as a source of protein, vitamin A, vitamin C, calcium, and iron. It's also packed in the naturally occurring phytochemicals of glutathione, rutin, and folic acid, which is known to lower the risk of heart disease, colon cancer, liver disease, and spina bifida.
3-4 servings (Makes about 1/3 cup pesto)
1 bunch fresh asparagus (about 15-20 spears)
1 cup parsley leaves, washed and dried
1 small garlic clove, crushed or minced
1 teaspoon lemon zest
1 tablespoon lemon juice
2 tablespoons olive oil
¼ cup parmesan cheese
Salt
Pepper
Wash and snap off ends of asparagus. Heat grill. Meanwhile, place parsley in a food processor or blender with the garlic, lemon zest and lemon juice and pulse until parley is finely chopped. Keep processor running and gradually add the olive oil; stir in parmesan cheese; salt and pepper to taste. Lightly brush asparagus with olive oil and place on grill rack and grill on medium heat, turning frequently, about 5 minutes or until they reach desired doneness. Arrange on a serving platter and serve with the pesto.
(Note: If asparagus spears are larger, before grilling, microwave for 1-2 minutes.)
Posted by Laura on May 15, 2008 | Permalink | Comments (2) | TrackBack
May 13, 2008
Mirror, Mirror On The Wall, Who's the Fattest of Them All?
Here at Green Mountain at Fox Run, women who struggle with their weight (and dieting), tell us all the time that they feel disconnected from their bodies. They describe the disconnect as intentional. Imagine walking around all day just living in your head, doing everything possible to ignore the vessel that essentially houses your being. Never looking at their reflection in a window or standing before a full length mirror. Anything to ignore what they perceive to be the bain of their existance - a less than perfect body.
This week in an Australian paper there was yet another study published which speaks to the fact that a very high percentage of women - even those at healthy weights - who feel that their bodies are so outside the acceptable norm. The study surveyed 15,000 Australian women and uncovered that the majority felt bad about their weight to the point where they would actively avoid their own reflection.
Academic Lily O'Hara* is baffled by attempts to shame women into leading healthier lives.
"People tell me all the time they hate looking in the mirror or they don't have a full-length mirror at home, and it is a symptom of deep dissatisfaction," she said. "They are afraid it might confirm their innermost fears – that their body does not meet the socially constructed ideal being portrayed by the beauty industry and now, disturbingly, by the health industry."
What that norm is, I suppose, depends on what magazines you read, television shows you watch or movies you go to...because more than likely you're not coveting the body of the woman next door. And why not?
*Ms. Ohara is a lecturer in public health at the University of the Sunshine Coast.
Posted by Cindy on May 13, 2008 | Permalink | Comments (1) | TrackBack
May 12, 2008
Weighing In: Raven-Symone's New CD Addresses Body Image and Hollywood
Former "That's So Raven" star Raven-Symone hopes her new CD will make people notice that's she's all grown up.
Coming of age in the entertainment industry is no easy task, as the former child star knows. Because Raven-Symone doesn't conform to the Hollywood size 0-2 stereotype, the entertainment media has been critical of her weight.
In a personal song entitled "Hollywood Life," Raven-Symone addresses the pitfalls of becoming famous, including the enormous pressure to lose weight.
"There are so many girls who are trying to be famous, and trying to conform to a style or body type," Raven-Symone said. "But they are fine just the way they are. This is a something that a lot of people need to hear."
Lyrics from the song illustrate the struggle of young would-be starlets in the town of glitz and glamour:
She's been here for a year
Her body losing weight now
Never called back home
She's embarassed to go
She don't eat, she don't sleep
All she's hearing is no

"Beauty is in the eye of the beholder, except in Hollywood: It's whoever says what is beautiful," she claimed. "So everyone follows. For me, I'm fine with how I am. I'm not trying to be a certain size."
Hmmm, sounds like Raven-Symone is a lot more mature than most of the peeps in Hollywood.
Posted by Laura on May 12, 2008 | Permalink | Comments (2) | TrackBack
May 09, 2008
Weight Loss: Being Overweight of Underweight can Increase Risk for Alzheimer's
(from WebMD)
May 8, 2008 -- Older adults who maintain a healthy weight may be preserving their mind and memory at the same time.
A study published in the May 2008 issue of Obesity Reviews shows that weight matters when it comes to warding off dementia. Researchers with Johns Hopkins Bloomberg School of Public Health in Baltimore have found that obese people have an 80% increased risk for Alzheimer's disease compared to those with normal weight.
But being underweight makes you 36% more likely to develop such cognitive disorders.
Scientists have long debated the link between obesity and dementia. Previous findings have been "mixed and inconclusive," according to information in the journal report.
For the current study, Youfa Wang, MD, associate professor of International Health and Epidemiology, and colleagues reviewed and analyzed 10 international studies (U.S., Finland, Sweden, France, Japan) from 1995 to 2007 that included people with various forms of dementia. Each person was aged 40-80 when the studies started, and they were followed from three to 36 years.
The reviewed studies included all forms of dementia, including Alzheimer's disease and vascular dementia, which is associated with high blood pressure and high cholesterol and can result from strokes.
"Our meta-analysis showed that obesity increased the relative risk of dementia, for both sexes, by an average of 42 percent when compared with normal weight," Wang says in a news release.
The researchers noted that obesity seemed to have a particularly profound influence on Alzheimer's disease and vascular dementia risk in those who developed the cognitive decline before age 60, or in studies with follow-up periods of more than 10 years. Risk also seemed to vary slightly depending on one's gender.
"Obesity was more likely to be a risk factor for women when it came to developing Alzheimer's disease and for men when it came to vascular dementia," says Wang.
The analysis also revealed that central obesity appeared to increase the risk of vascular dementia but not Alzheimer's disease. Central obesity refers to a buildup of fat around the midsection. Such dangerous belly fat has been linked to high cholesterol and a greater risk of heart attack.
Alzheimer's disease is a progressive brain disease and the most common cause of dementia in people aged 65 and older. According to the Alzheimer's Association, about 5 million people in the United States live with the condition. However, there are concerns that the number could greatly increase in coming years as America's baby boomers reach their golden years.
The study authors encourage healthier lifestyles to reduce obesity rates as a "promising strategy for preventing the progression of normal aging into Alzheimer's disease."
According to the National Institutes of Health, two-thirds of adults are overweight or obese.
Everything in moderation, right?
Posted by Laura on May 9, 2008 | Permalink | Comments (2) | TrackBack
May 08, 2008
Healthy Recipe: Celebrate Mother's Day with 'Mother Earth' Organic French Toast
Planning an organic Mother's Day brunch (or breakfast in bed) is a splendid way to honor motherhood. Show her that you've put some thought into making her day special, and that you value her health. Most items for this healthy recipe can be found at organic food markets, but don't sweat it if you can't find all organic ingredients - moms know it's the thought that counts!
8 inch-thick slices of high-quality, organic, multigrain bread
2 cups freshly squeezed organic orange juice
¼ cup sugar
6 eggs
3 Tbl. freshly grated orange zest
¼ tsp. vanilla extract
2 Tbl. Grand Marnier
1/2 cup half and half
Pinch salt
Sauce:
3 Tbl. unsalted butter (optional)
2 Tbl. orange marmalade
1 Tbl. Grand Marnier
Real maple syrup
In a bowl, whisk together the eggs, half-and-half, orange juice, zest, sugar, vanilla, Grand Marnier, and a pinch of salt. Place the bread slices in a 13×9x2-inch baking dish and pour the whisked mixture over the bread, turning after a half hour to coat both sides. Chill in the fridge overnight.
In the morning, preheat the oven to 400°F. Coat a large baking sheet with butter and arrange the bread slices on it, leaving a couple of inches between slices. Bake for five minutes on a middle rack, then rotate the pan and bake five more minutes. With a spatula, turn the slices over and bake five more minutes, then rotate the sheet and bake five more minutes.
While the bread is baking, make the sauce in a saucepan by cooking the butter, marmalade, and Grand Marnier over low heat until the butter melts and all is incorporated smoothly. Place two slices of the French toast on each. Garnish with organic strawberries or other fruit.
Posted by Laura on May 8, 2008 | Permalink | Comments (0) | TrackBack
May 07, 2008
Binge Eating & the College Woman
All binge eaters struggle with their weight, right? Wrong.
Studies show many binge eating college students appear to be at a healthy weight. So how do we know if we – or our college age daughters (and sons) – struggle with binge eating? And why do we care if it doesn't make us fat? Our FitBriefing this month "Binge Eating & the College Woman" answers that question and more.
A brief excerpt:
Very different from the occasional overeating episode, which is part of normal eating, binge eating has psychological consequences also. People with binge eating disorder may also become depressed; research shows they report more problems with stress, trouble sleeping and more suicidal thoughts than people without eating disorders. Binge eaters often feel badly about themselves and isolate themselves to binge eat, missing work, school and social activities.
If you suspect you are a binge eater, or your daughter (or son) is one, seek help. It's not always about weight loss and it's not a problem to be ignored.
Posted by Marsha on May 7, 2008 | Permalink | Comments (1) | TrackBack
May 06, 2008
Diets Don't Work!
We've been saying it for over 36 years. Finally, the whole world is getting hip to this message (but not quite there yet). To show solidarity, join us in celebrating International No Diet Day today!
FOR IMMEDIATE RELEASE: THE ASDAH CELEBRATES INTERNATIONAL NO DIET DAY
"Are you putting your life on hold until you lose weight? On May 6, 2008, join the Association for Size Diversity and Health in celebration of International No Diet Day, a one-day moratorium on weight-loss dieting sponsored by an international coalition of health professionals, activists and community groups.

Now celebrated worldwide, International No Diet Day originated in 1992 by Mary Evans Young, the director of a British activist group called Diet breakers. INDD was established to challenge the cultural attitudes and values that contribute to chronic dieting, weight preoccupation, eating disorders, and size discrimination.

ASDAH is an international professional organization composed of individual and organizational members who are committed to the principles of Health At Every Size (HAES). In line with INDD goals, the mission of the Association for Size Diversity and Health (ASDAH) is to promote education, research, and the provision of services which enhance health and well-being, and which are free from weight-based assumptions and weight discrimination."

"It is important to recognize that health and well-being are multi-dimensional and that they include physical, social, spiritual, occupational, emotional, and intellectual aspects," says ASDAH Board President Dana Schuster, "And perhaps most important, we need to recognize that people of all shapes and sizes deserve basic human rights, including the right to not be discriminated against."
Join ASDAH for International Diet Day on May 6 and eat well, play well and give yourself a break from self-recrimination because of some arbitrary definition of perfection and beauty."
For more information visit the official INDD web site: http://www.largesse.net/INDD/
For more information on ASDAH, visit: www.sizediversityandhealth.org
ASDAH's Annual international conference is coming up in July 2008 and will be held at the LAX Marriott. For more information visit www.sizediversityandhealth.org.
Posted by Cindy on May 6, 2008 | Permalink | Comments (1) | TrackBack
May 05, 2008
Weight Loss: Finding Motivation through Inspiration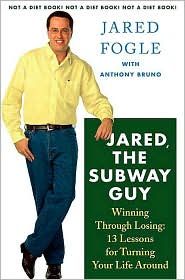 One of the reasons that we find it difficult to lose weight permanently is the length of time it takes to do it healthfully. Over the long haul, good habits can break down, enthusiasm can wane, and we sometimes find ourselves struggling to keep our commitment to our healthy living goals.
Staying motivated is a skill in and of itself. Finding methods to keep on going - such as journaling, support groups, reading inspirational quotations - is also a part of a healthy lifestyle. Everyone is different, of course, so you need to find your own source of inspiration.
Who or What Inspires You?
Weight loss success stories are often inspiring. That's why commercials often feature celebrities to tout their weight loss programs or products. Some TV ads, like Subway, even turn ordinary folk (need I say Jared?) into household names.
Inspiring people and stories are my personal favorite source for motivation. Just this past Friday, CNN posted an article about a college student named Brandon Hollas who was able to lose 180 pounds - not by a gimmick or fad diet - but by educating himself about nutrition and exercise.
"I can remember lying in my dorm room at Texas A&M ... with my large stomach weighing me down in bed," Hollas remembered. "I told myself, 'I have to change and I have to do it now or it won't ever happen.' "

Around the same time, he had another wake-up call. His 11-year-old cousin was diagnosed with Type 1 diabetes and his grandmother was diagnosed with [type 2 diabetes], or adult onset diabetes. Their diagnoses combined with a family history of obesity to convince Hollas he had to make a change.

Hollas also joined the recreation center on campus and started riding an exercise bicycle. He lost 50 pounds within six months. The weight loss motivated him to begin learning about health and fitness at the school's library and in men's health magazines.

"I wasn't educated about how to eat right or how to lose weight," Hollas recalled. "I read all about nutrition, how to change meals to make them [healthier]."

(Source: read full article at CNN.com)
As Hollas, now 25, will tell you, there are 'no fast, easy ways out of being heavy,' but the concept is simple. Determination, self-education, and perseverance in adopting a healthy lifestyle are key elements in achieving weight loss success.
Let us know what inspires you!
Posted by Laura on May 5, 2008 | Permalink | Comments (5) | TrackBack
May 02, 2008
Diabetes: Diabetes And Alzheimer's Disease Linked By Salk Institute Study
Did you know that people with type 1 or type 2 diabetes have a 30 to 65 percent greater risk for Alzheimer's? Until now, researchers have been mystified as to the reason behind the link, but a recent study (published in the current online issue of Neurobiology of Aging by the Salk Institute for Biological Studies) has pinpointed the molecular connection.
David R. Schubert, Ph.D., professor in the Cellular Neurobiology Laboratory, and his team report that the cranial blood vessels of young diabetic mice sustain damage from the interplay between elevated blood sugar levels and low levels of beta amyloid, a peptide that forms the senile plaques in Alzheimer's disease.
"Our data clearly describe a biochemical mechanism to explain the epidemiology, and identify targets for drug development," says Dave R. Schubert, Ph.D.
Salk researchers Schubert, Burdo and Qi Chen, along with diabetes expert Nigel Calcutt, a pathology professor at UCSD, selected mice whose genetics predisposed them to Alzheimer's and then induced type 2 diabetes to study the damage to their vascular systems. The mice's blood vessels became damaged long before they suffered overt signs of Alzheimer's disease. The overproduction of free radicals, they determined, caused oxidative damage to linings of cells in cranial blood vessels.
"While all people have a low level of amyloid circulating in their blood, in diabetics there may be a synergistic toxicity between the amyloid and high level of blood glucose that is leading to the problems with proper blood vessel formation," says Burdo.
In the U.S., incidences of Alzheimer's and type 2 diabetes are both growing at a concerning rate. 1 in 10 people over 65 develops Alzheimer's and that jumps to nearly half of all people over 85. About 20 million Americans, most of whom are over 60, have either type 1 or type 2 diabetes. That figures out to be roughly 7 percent of the population.
Posted by Laura on May 2, 2008 | Permalink | Comments (1) | TrackBack
May 01, 2008
Healthy Recipe: Chocolate Soy Brownies
We've been posting articles about heart protective compounds called flavonoids, which can be found in chocolate and soy protein. Research has shown that a healthy diet that includes soy protein may have a positive effect on the heart, blood vessels, and kidneys. Today's healthy recipe is another example how healthy eating can be simple and - just as importantly - delicious!
Makes 16 brownies
1 1/2 cups unbleached all-purpose flour
2 teaspoons baking soda
1 cup sugar
1/2 cup unsweetened cocoa powder
4 ounces plain soy yogurt
1 cup nonfat soy milk
1 tablespoon vegetable oil
1 teaspoon vanilla extract
Preheat the oven to 425 degrees and grease an 8x8 square pan or line with parchment paper. In a large bowl, combine the flour, baking soda, sugar, and cocoa and set aside. In a food processor or blender mix the yogurt, soy milk, oil, and vanilla until smooth. Pour the yogurt mixture into the dry ingredients, stirring until well combined. Pour the batter into the greased pan and bake for 25 minutes, or until the brownies spring back when touched. Cool the brownies to room temperature before slicing.
Read our other blog posts on chocolate and soy:
More Good News on Chocolate!
Healthy Eating – Is Chocolate the Answer?
It's That Chocolate Time of Year Again
So, So, Soy
Soy Protein Beneficial in Type 2 Diabetics
Posted by Laura on May 1, 2008 | Permalink | Comments (3) | TrackBack