We've Moved!
Continue to read our thoughts on how to
get free of eating, exercise and weight worries
at our new location: AWeightLifted.com.
« September 2007 | Main | November 2007 »
October 31, 2007
Requiem for a Fad Diet Author

I just learned that the author of the Beverly Hills Diet died a few days ago. There's nothing in particular I have to say about this, or the diet, that wasn't brilliantly summed up in a post on diet blog. Briefly, the post talks about formulas for these types of books: pseudo-scientific theories, celebrity testimonials, a sexy title named after a city, and a dose (large) of insecurity about being larger than the societal ideal.
The big question for me is why we keep falling for fad diet schemes like this? It does seem easy to follow the rules of these diets, which are so restrictive; we don't have to think about the choices we're making. But for the most part, we know any weight loss we achieve isn't lasting, or for that matter, healthy.
Whether we're trying to lose weight to improve our health, such as following a type 2 diabetes program, or whether we just want to fit into a pair of skinny jeans, the only answer is changing our lifestyle if it's unhealthy, or changing our minds if we're not genetically destined to fit into skinny jeans. And taking a step back, I keep asking whether research clearly links problems like type 2 diabetes with weight, or is it linked with the behaviors that lead to more weight than is good for us? I keep getting equivocal answers about this, according to whom I ask, which makes me suspect that the latter is the case. And if that's true, fad diets are the last thing that are going to help. All they do is focus on the weight, and for many people, end up creating disordered eating behaviors that plague us in our efforts to get and stay healthy.
Here's one way to implement that healthy lifestyle that includes healthy eating behaviors: Go trick or treating with the kids tonight -- taking those long walks through local streets. If you feel like eating a piece of candy or two, go for it. Bingeing on the candy obviously isn't normal eating...it's just one example of the disordered eating that diets like The Beverly Hills Diet has driven many of us to.
Posted by Marsha on October 31, 2007 | Permalink | Comments (1) | TrackBack
October 30, 2007
Tricks and Treats – Happy All Hallows Eve!

I was walking down the grocery store aisle yesterday checking out all the Halloween costumes and couldn't believe it's almost November. How can that be?! Then it dawned on me that this is the time of year that holiday treats are marketed to us within an inch of our lives. It starts with Halloween, and before you know it out come the New Years resolutions. Whoosh! Just like that.
It begins with the jumbo bags of bite-sized Milky Way bars and boxes of candy coated apples everywhere when summer has barely bid adieu. On any given day, I wouldn't think about a caramel coated red delicious apple sprinkled with walnuts, but today…mmm, sounds kind of good!
So when does it make sense to indulge in a treat or two because we really want it? How can we distinguish a visual temptation and a real internal cue that says, 'I would really enjoy something sweet?' Sometimes it's bloody hard to tell. It's a trick and treaty kinda time.
At this time of year it's important that we make a real attempt to tune into hunger and listen for those internal cues and make wise choices whenever possible. Doesn't mean a candied apple isn't in your future, it just means that if your New Year's resolutions usual includes laying off sugar, or eating less and exercising more, you may want to think now about putting some healthy lifestyle strategies in place. Try to keep yourself at the top of your priority list (yes, even at the holidays!), lest you find yourself in a puddle at the end of the day with a bag of half eaten candy corn.
Great recipe for caramel covered apples here.
Written by Cindy
Posted by Marsha on October 30, 2007 | Permalink | Comments (0) | TrackBack
October 29, 2007
Healthy Eating and Fitness Help Women Prevent and Survive Breast Cancer
October is Breast Cancer Awareness Month
Many of you reading this post either currently have, have survived, or know someone who has been diagnosed with breast cancer. According to a 2005 report from the Institute of Medicine, roughly 2.3 million women in the USA have or have had breast tumors.
Increasing breast cancer awareness is a vital part of prevention as well as survival. Exercise and healthy eating may protect against breast cancer, its recurrence, and can help survivors rebuild their strength and energy.
Are You Aware?
Did you know that new research shows breast cancer occurs in African American women at an earlier age and has a higher rate of mortality than in white women?
The American Cancer Society estimated more than 19,000 black women would be diagnosed with breast cancer this year. Even though that number represents 12% fewer occurances than in white women, it is the second-most common cancer among black women, surpassed only by lung cancer.
"[Even after accounting for lower income and less access to strong health care,] poorer outcomes among African-American women persist. ... There is also evidence that aggressive tumor characteristics are more common in African-American women than white women." (Source: Black America Web)
Beating Breast Cancer
Excerpt from the National Breast Cancer Awareness Month site:
Healthy Eating
Breast cancer research has shown that obesity and weight gain can increase the risk of recurrence. They also raise the risk of other important disorders, such as heart disease and diabetes. An overall healthy weight loss program - one that includes low in fat and high in fruits, vegetables and whole grains - may protect against cancer.

Women recovering from breast cancer are encouraged to follow established guidelines for good health. Working with a doctor is the best way for survivors to develop a safe nutrition and exercise plan that matches their needs.

Exercise and Fitness
Regular exercise provides real benefits to breast cancer survivors. A recent study in the Journal of Pain and Symptom Management, March 2007, showed that women with breast cancer that has spread beyond the breast may benefit from participating in a tailored yoga program that includes gentle yoga postures, breathing exercises, and meditation.

In addition to helping maintain a healthy weight, physical activity such as yoga can increase strength and energy while reducing stress. Exercise can also reduce symptoms of fatigue, nausea and pain. So, choose an activity that suits you and get active!
The American Cancer Society hopes the message that all women get from Breast Cancer Awareness Month is how important it is to keep informed about the risks and to be proactive in getting screened and treated.
By Laura Brooks
Tags: healthy eating, healthy weight loss program, breast cancer awareness, cancer survivors
Posted by Laura on October 29, 2007 | Permalink | Comments (0) | TrackBack
October 25, 2007
Healthy Recipes: World Series Bean Bake Off - Boston Baked Beans vs. Colorado Refried Beans
The Boston Red Sox have won the first World Series game against the Colorado Rockies with an impressive 12 run lead. Will the Red Sox repeat their 2004 win when they broke the 86-year "Curse of the Bambino"? Or will the Rockies redeem themselves with a comeback? Well, grab an all-american hot dog, watch the game, and support your team by choosing either a Boston or Colorado bean side dish recipe.
Boston is famous for baked beans, but did you know that Colorado is nationally recognized for its production of dry beans? The rocky mountain state produces a wide range of varieties including pinto, light red kidney and navy. Beans are great for healthy eating because they're high in protein and dietary fiber, and low in fat and sodium.
So, will it be Boston Baked Beans or Colorado Refried Beans that make your baseball night a success? Who knows, if you're superstitious, you might just lead your team to a delicious victory!
Boston Baked Beans
(Source: Boston Globe)
Makes 6 servings
1 pound navy or pea beans
1 large onion, chopped
2 tablespoons Dijon mustard
1/4 cup dark brown sugar
1/3 cup light brown sugar
1/4 cup molasses
1 teaspoon salt, or to taste
Discard any discolored beans. In a large bowl, combine the beans with plenty of cold water and soak overnight for 6 to 8 hours. Drain the beans. In a large pot, combine the beans and enough water to cover them by 1 inch. Bring to a boil, lower the heat to simmer, and cook for 45 minutes or until they are just tender (it may take longer if the beans are old or the soaking time was short). Drain the beans and set aside the cooking liquid.Set the oven at 325 degrees. In a bean pot or deep casserole with a lid, combine the beans, onion, mustard, dark and light brown sugars, molasses, and salt. Add enough of the cooking liquid to just cover the beans. Stir to blend them. Bring the liquid to a boil on top of the stove, then transfer to the oven and bake for 2 hours, checking every 30 minutes to make sure the beans don't dry. Add more cooking liquid if necessary.When the beans are tender, uncover the pot and cook for 20 to 30 minutes more to make a slightly crusty top.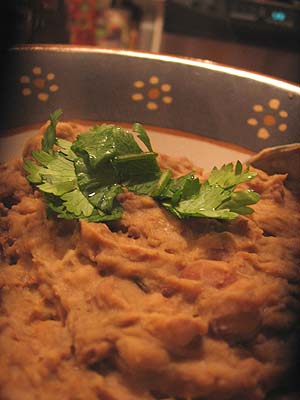 Colorado Refried Beans
(Source: Colorado Goverment Website)
Makes 6 servings
5 ozs. Pinto beans, dried
3 cloves Garlic
1 Jalapeno pepper, cored and seeded
¼ cup Water
½ cup Corn oil
½ tsp. Cayenne pepper
¼ tsp. Salt
Dash Hot pepper sauce
Cover beans with cold water and soak overnight. Drain beans and place them in a saucepan, cover with cold water. Bring to a boil and reduce the heat to a simmer, and simmer until tender (about 45 minutes). Drain and cool. In a food processor, chop garlic and the jalapeno. Add beans and with the motor running, process while slowly adding the water and oil through a feed tube. Add remaining ingredients and process until smooth.
For more healthy eating recipes, check out the other delicious recipes listed on this blog or visit Green Mountain Healthy Living Recipe Favorites.
Posted by Laura on October 25, 2007 | Permalink | Comments (1) | TrackBack
October 24, 2007
Healthy Eating & Fast Food: Ever the Twain Shall Meet?

Yesterday USA Today reported on a study released at the annual meeting of the Obesity Society. The study looked at the frequency of fast-food meals and likelihood of weight gain. "...someone who consumes one fast-food meal a week is on average 1 1/2 pounds heavier than someone who eats no fast food," according to the researcher who presented the study findings, and "the weight of someone who consumes three to six fast food meals a week is significantly heavier than someone who consumes no or one to two such meals a week." The study was conducted on a survey of 4,600 adults.
Last week I posted on a similar issue, encouraging us to learn to cook (and mentioned two resources -- a healthy cooking DVD titled First Kitchen Cooks and Green Mountain at Fox Run's upcoming Mindful Cooking classes). Clearly, knowing how to prepare our own, satisfying food is key to healthy eating and well-being.
But I worry about demonizing fast food, as is likely to happen if we just focus on the headlines. At Green Mountain, since our founding, we've encouraged women to eat what they want, but to be clear about what they want. If we get past issues of deprivation and get in touch with what we feel like after eating foods, we may find we don't want certain types as often as we thought we did. That can include fast food. We may enjoy eating it occasionally -- and suffer no ill effects -- but if we eat it too often, we're likely to not only eat more calories than we want, we probably won't feel our best either. So, as the study points out, fast food in moderation (one to two meals a week) doesn't mean we're necessarily heavier, and as we've long said, can be part of a healthy weight loss program, or a healthy weight maintenance program, too.
The researcher in the study mentioned above also admits that her findings don't prove any cause-and-effect relationship between fast food and weight gain. That is, we don't know whether people are heavier because they eat fast food a lot, or whether there is something else that characterizes people who eat fast food frequently, such as sedentary behavior, for instance. Additionally, the researchers mentioned that people would like 'healthier' items included in value/combo meals, and would like nutrition information included on menus. Those steps might help, but my vote is for moderation in our use of such foods, as with anything else.
Posted by Marsha on October 24, 2007 | Permalink | Comments (0) | TrackBack
October 23, 2007
Diabetes: 'Complex of Causes' - Part II
In yesterday's post, Diabetes: A 'Complex of Causes', I wrote about exciting new research reported by the New York Times implicating a causal relationship between the skeletal and immune systems to type 2 diabetes. Other studies also show a connection between blood sugar regulation to the brain and intestines.
Over a hundred years ago, Claude Bernard (a French physiologist) hypothesized that the brain was an integral part in blood sugar metabolism. He experimented on animals by punturing their brains in key areas, managing to disrupt their blood sugar regulation. In essence, he made the animals become diabetic.
Dr. C. Ronald Kahn, a diabetes researcher and professor at Harvard Medical School, said that virtually no one followed up on this finding. And, although people thought about glucose as a critical fuel for the brain, they did not investigate the brain's role in glucose regulation. Only in modern times has this possible link been explored further due to advances in laboratory techniques such as genetic research.
All in Your Head
In 2000, Dr. Kahn's experiments to manipulate mice's insulin receptors have demonstrated that, without those specialized cells in the brain, the mice were incapable of regulating glucose and eventually developed diabetes.
Several new studies indicate that recent papers suggest that - in mice - glucose sends signals directly to neurons in the hypothalamus (the part of brain responsible for regulating appetite, temperature and libido). These signals are critical in the mice for normal blood sugar metabolism.
(Except from the October 16th NY Times article)

"If the brain is getting the message that you have adequate amounts of these hormones and nutrients, it will constrain glucose production by the liver and keep blood glucose relatively low," said Dr. Michael W. Schwartz, a professor at the University of Washington. But if the brain senses insufficient amounts, he goes on, it will "activate responses that cause the liver to make more glucose, and new evidence suggests that this contributes to diabetes and impaired glucose metabolism."

The brain, therefore, appears to be listening to — and weighing and making sense of — a chorus of signals from insulin, leptin, free fatty acids and glucose itself. In response, it appears to send signals to liver and muscle cells by way of several nerves, though additional mechanisms are probably involved.
A Gut Feeling
Dr. Robert A. Rizza, a professor at the Mayo Clinic College of Medicine, believes another area for diabetes and type 2 diabetes research should be the gut or intestines.
"Food comes in through the gut, so of course you should look there" for molecules involved in glucose regulation, said Dr. Rizza. "But few people realized this until very recently."
Incretins, or hormones secreted by the small intestine, apparently directly signal the pancreas and brain and cause blood sugar levels to decrease. With this reduction in blood sugar, animals and people have been shown to eat less and lose weight.
New clinical trials are studying molecules that either inhibit incretins from degrading in the body or can mimic the effects of the hormone. The FDA has approved two drugs thus far, but side effects are still to be determined.
"The picture is becoming more and more complicated," said Dr. Alan R. Saltiel, director of the Life Sciences Institute at the University of Michigan. "And let's face it, it was pretty complicated before."
By Laura Brooks
Posted by Laura on October 23, 2007 | Permalink | Comments (1) | TrackBack
October 22, 2007
Diabetes: A 'Complex of Causes'
Results from what the New York Times calls "an explosion of new research," indicated that the cause of diabetes and type 2 diabetes is more complex that previously thought.
With 73,000 deaths a year, diabetes is the fifth leading cause of death in United States. For decades, the medical profession has regarded diabetes - or the body's inability to regulate glucose - as a failure in communication between the pancreas, the liver, muscle and fat.
Getting Down to the Bare Bones
However, working with mice, Dr. Gerard Karsenty of Columbia University has recently found that a hormone released from bone may help regulate blood glucose. In other studies, researchers have demonstrated that signals from the immune system, the brain and the gut play also critical roles in controlling glucose and lipid metabolism. (The findings are mainly relevant to type 2 diabetes.)
When Dr. Karsenty first dislosed the findings at a conference, the scientists in attendance "were overwhelmed by the potential implications," said Dr. Saul Malozowski, senior adviser for endocrine physiology research at the National Institute of Diabetes and Digestive and Kidney Diseases. "It was coming from left field. People thought, 'Oof, this is really new.'"
Elevated blood sugar is the hallmark of diabetes, but now it seems that the reasons underlying abnormal sugar levels "differ tremendously from person to person," said Dr. Robert A. Rizza, a professor at the Mayo Clinic College of Medicine. "Rather than giving everyone the same drug," Rizza adds, if doctors can ascertain which signals are involved in a particular case, treatment can be tailored to the individual.
(Except from the October 16th NY Times article)

In previous work, Dr. Karsenty had shown that leptin, a hormone produced by fat, is an important regulator of bone metabolism. In this work, he tested the idea that the conversation was a two-way street. "We hypothesized that if fat regulates bone, bone in essence must regulate fat," he said.

Working with mice, [Karsenty] found that a previously known substance called osteocalcin, which is produced by bone, acted by signaling fat cells as well as the pancreas. Dr. Karsenty found that in mice prone to type 2 diabetes, an increase in osteocalcin addressed the twin problems of insulin resistance and low insulin production. That is, it made the mice more sensitive to insulin and it increased their insulin production, thus bringing their blood sugar down. As a bonus, it also made obese mice less fat. A deficiency in osteocalcin could also turn out to be a cause of type 2 diabetes, Dr. Karsenty said.

Another recent suspect in glucose regulation is the immune system. In 2003, researchers from two laboratories found that fat tissue from obese mice contained an abnormally large number of macrophages, immune cells that contribute to inflammation.
For a long time, inflammation has been suspected in some what to insulin resistance, which precedes nearly all cases of type 2 diabetes. In fact, around the turn of the century, aspirin was given to diabetes patients regularly. In recent years, the relationship of obesity, inflammation and insulin resistance has become a hot topic of reseach.
"Certain cellular anti-inflammatory proteins may now be important new targets for drug discovery for diabetes treatment," said Dr. Jerrold M. Olefsky of the University of California, San Diego, School of Medicine.
With new understanding comes new hope for different and more effective treatments of one of America's deadliest diseases.
By Laura Brooks
Posted by Laura on October 22, 2007 | Permalink | Comments (0) | TrackBack
October 18, 2007
Healthy Recipe: Halloween Pizza Mummies
Kids will love munching on these fun and easy-to-make pizza mummies. It's a terroriffic idea for a halloween party or a spooktacular healthy eating snack.  Tomato sauce contains lycopene, a powerful antioxidant that may help to prevent some chronic disease and cheese is an excellent source of calcium. This is one healthy recipe that everyone will be 'goblin' up in no time! (Source: The Mommy Playbook)
English muffins
Pizza sauce
Black olives
Scallions
Red or green pepper
Cheese sticks or slices
Heat the oven to 350° F. For each mummy, spread a tablespoon of pizza sauce onto half of an English muffin (toast it first, if you like).

Set olive slices in place for eyes and add round slices of green onion or bits of red or green pepper for pupils.Lay strips of cheese (we used a pulled-apart cheese stick) across the muffin for the mummy?s wrappings.

Bake for about 10 minutes or until the cheese is melted and the muffin is toasty.
For more healthy eating recipes, check out the other delicious recipes listed on this blog or visit Green Mountain Healthy Living Recipe Favorites.
Posted by Laura on October 18, 2007 | Permalink | Comments (3) | TrackBack
October 17, 2007
Learning to Cook for Healthy Weight Loss

Here's a bit of weight loss information you might already know about: The research is pretty clear -- those of us who eat out more often seem to be destined to have a harder time maintaining a healthy weight. And when it comes to healthy weight loss -- fuhgeddaboutit! (Okay, so the Sopranos are over, but some things just won't go away.)
So if we want to keep our healthy lifestyles intact, whether it be for healthy eating in general or specific problems like maintaining a type 2 diabetes program, it's also clear that we need to make food at home. That's a challenge for many reasons, not the least of which is that many of us just don't know how to cook. So Green Mountain has two solutions.
First, we're sponsoring a series of healthy cooking workshops this fall with our executive chef Jon Gatewood and sous chef Lisa Fennimore. Both are seriously talented in not just making good food, but also in teaching others how to do it themselves, even within time and financial budgets. Plus, fall is a great time to come to Green Mountain. The season is changing to winter, and it offers a special feeling that you don't find other times of the year. What's more, our rates drop. :-)
The second solution is more likely for most of us, I suspect. It only involves buying the new First Kitchen Cooks DVD and popping it into your computer to quickly learn how to make some basic dishes that you can then expand on. Alta Engstrom, RD, our communications director, has formed her own company to produce this valuable tool. It's targeted at young people -- her niece Allison stars in it, and being a 20-something, talks to her peers in it -- but it's really useful for anyone who doesn't know their way around the kitchen. Check it out on Alta's website First Kitchen Cooks; you can see a video clip of it there.
So do you already know how to cook? Then consider the DVD as a holiday gift for the young person/people in your life. Chances are they're still kitchen novices, and who knows, you might get a dinner invitation out of it!
Posted by Marsha on October 17, 2007 | Permalink | Comments (3) | TrackBack
October 16, 2007
It Takes A Village
No matter what your politics, it is hard to see Hilary Clinton on our TV screens almost every night these past few months and not be reminded of her book, It Takes a Village: And Other Lessons Children Teach Us, in which she writes about her vision for the children of America. She focuses on the impact friends, neighbors and groups outside the family have, for better or worse, on a child's well-being.
For a plethora of personal reasons, I've been reminded again how important it is to find a team of people who can support you when you're looking to make important changes in your life. Whether it's financial, professional or personal help (thanks Alan), or something as organic as getting healthier (thanks Vanessa), or just feeling better (thanks Jim), creating or reaching out to your own 'village' is a Godsend when trying to make your way through challenging times.
I recognize 'feeling better' is a relative term and has different meaning for each of us. It could mean making that long over due trip to your doctor to get a check up, or looking for a personal trainer who can help you work through your personal fitness issues. It could mean employing a registered dietician or nutritionist to support your efforts to eat healthfully, or maybe its time to consider a terrific therapist who you can spill your guts to.
It may take a couple tries to find people you like. Keep trying because when you do find them they can be like gold. Your state should provide listings to women's organizations, which focus on women's health, nutrition, fitness and emotional issues. They can guide you to professionals in a wide variety of disciplines. Reaching out to friends or family to let them know you need their support can also be very important.
I don't know why I've always been bad about asking people for help, but I suspect I'm not alone. Doing everything ourselves, never letting on that we have weaknesses or need help can be an unproductive part of our human nature, so we often suffer in silence.
Creating your own 'village' is important in my view, b/c our needs may be better met when we bring together the expertise of folks who offer us different perspectives. A woman's total health is a complex issue. And each woman is unique. Surrounding yourself with people who want to help you, gives you the feeling that you're not alone, people care and most importantly, you can succeed at getting where you want to go.
You may be surprised to find very good programs through your local community center, religious organizations or the YWCA. Look for professionals who will work with you and your special needs and always seek referrals.
RESOURCES:
Information on women's health
Lists for therapists my U.S. city
Posted by Cindy on October 16, 2007 | Permalink | Comments (0) | TrackBack