We've Moved!
Continue to read our thoughts on how to
get free of eating, exercise and weight worries
at our new location: AWeightLifted.com.
« July 2007 | Main | September 2007 »
August 31, 2007
Healthy Living - It's Back To School!
Going back to school is stressful for everyone involved. Moms rushing around trying to make sure clothes are in order, supplies have been purchased and all the other perfunctory requirements have been met. Kids are stressed because, well, summer is over and they're going back to school...ugh!
This is a time when the rhythm of the summer dance is interrupted and everyone has to put on a new pair of dancin' shoes and get ready for a more demanding time of year. Anytime there's a change in our routine we're faced with a dilemma. How do we keep some focus on our own health, fitness and still manage our stress?
A simple tip for those of you out there struggling to keep it all together - plan for yourself now. Get out your calendar and while you're filling it up with band practice, football games and PTA meetings, make sure you leave space in each day for you and what's important in your life.
-Feed yourself by eating plenty of healthy foods! And make time to enjoy your food mindfully. (Yes, that includes a treat or two!)
-Keep moving your body! Schedule the aerobic activities that you love and don't forget to hit the weights and stretch and flex your tired muscles - they'll thank you!
-Set aside some time to keep your stress level in check. Maybe a little meditation, yoga or take a class in Tai Chi.
Being proactive in this regard can mean a much smoother transition into the new year and a happy, healthier you.
Posted by Cindy on August 31, 2007 | Permalink | Comments (1) | TrackBack
August 30, 2007
Healthy Recipe: Apricot Oatmeal Squares
It's back to school time! If you like healthy recipes for kids' snacks or desserts, here's a delicious and nutritious one that combines the goodness of oatmeal with the tangy taste of apricots. Rich in beta-carotene (Vitamin A), apricots are a powerful source of disease-fighting anti-oxidants. Apricots also provide Vitamin C, iron, potassium and fiber among other nutrients. It's a great healthy eating treat to keep your kids going and going strong! (Source: California Apricot Growers)
Makes about 20 servings
2 eggs
2 teaspoons vanilla
2 sticks butter or margarine
3/4 cup brown sugar
3/4 cup sugar
1 1/2 cups flour
1 teaspoon salt
1 teaspoon baking soda
3 cups quick-cooking oats
1 (15 1/4 oz.) can apricot halves, drained and diced into small pieces (approx. 1 cup)
1 12 oz. bag semi-sweet chocolate chips (optional)
Preheat oven to 375°F. Grease a 13"x9" pan and set aside. Melt butter, add sugars and blend well. Add eggs and vanilla and blend. In a separate bowl, combine flour, salt, baking soda and mix together. Add mixture to the butter and sugars. Add oats and blend until combined. Add apricot halves and chocolate chips. Spoon mixture evenly into pan and bake 20-25 minutes until toothpick pulls out clean; do not overbake.
Variations: Omit chocolate chips; add 2 teaspoons of cinnamon and an additional can of apricot halves (drained and diced). Other possibilities include adding 1/2 cup of walnuts, almonds or coconut.
For more healthy recipes check out the other delicious recipes listed on this blog or visit Green Mountain Healthy Living Recipe Favorites
Posted by Laura on August 30, 2007 | Permalink | Comments (1) | TrackBack
August 29, 2007
Emotional Eating: Getting the Support We Need
Emotional eating plagues most of us who struggle with weight. It's often about feeling guilty that we ate something we thought we 'shouldn't.' Or it's about not doing the exercise we thought we 'should.' Or it's about feeling bad about our bodies, thinking we're just not up to snuff.
But sometimes we don't know what it's about. And that's often because we don't give ourselves the time (luxury?) to spend delving into our feelings. We don't know what we're feeling, so we don't know what we need.
Our most recent FitBriefing on emotional eating reviews three questions that dietitian and healthy weight loss expert Laurel Mellin recommends we use to discover our feelings and then figure out what we need to satisfy them. Read more about it here.
The last question is about getting support, asking ourselves first if we need it? I'd venture to say we always need support, because sometimes the support we need comes from us. And of course, valuable support can come from others. Whichever way, support can help us look at things differently and do things differently, then ultimately feel differently. Not so easy to do, perhaps, but well worth the effort.
Posted by Cindy for Marsha
Posted by Cindy on August 29, 2007 | Permalink | Comments (1) | TrackBack
August 27, 2007
Healthy Eating, Healthy Lifestyle: Parent, Heal Thyself...Your Stress May Affect Your Child's Weight
A U.S. study, published in the journal Obesity, finds that parental stress or bullying by peers can make it even tougher for overweight or obese children to live a healthy lifestyle.
"If a parent is distressed, that seems to impact a child's symptoms of depression, which then impacts quality of life. It's the same with peer victimization. It impacts depression, which then impacts quality of life. And it seems to affect not just the emotional aspect of quality of life, but also their health status," lead author David Janicke, assistant professor of clinical and health psychology in the University of Florida College of Public Health and Health Professions, in Gainesville, said in a prepared statement.
In the study, in which 96 overweight or obese children and their parents were surveyed, youngsters (whose parents were stressed/depressed) had a lower overall quality of life. Ditto for kids struggling with negative peers.
"One of the pathways to poor quality of life seems to be childhood depression," Janicke noted. He said parental support is critical in helping children make healthy lifestyle choices.
Janicke suggests that support for distressed parents may be one avenue for helping overweight/obese children. He theorizes that parents who struggle with with stress or depression may not have the emotional capacity or energy reserve to provide support, model healthy eating, or promote fitness activities for their children. Researching more about these contributing parental factors may help to find more ways to treat overweight children, he added.
The U.S. National Institute of Diabetes and Digestive and Kidney Diseases outlines what parents can do to help overweight children, including encouraging daily physical (and fun) activity, role modeling, healthy eating habits, and more. However, putting your child on a diet is NOT a good idea. Read 'Healthy Eating - What If Diet Foods Make You Fat?' for more information on why diet foods may actually lead to overeating in children.
By Laura Brooks
Posted by Laura on August 27, 2007 | Permalink | Comments (0) | TrackBack
August 24, 2007
Body Image: Seventeen Magazine To Introduce 'Body Peace Treaty'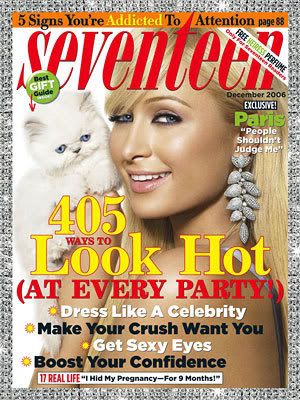 When I think back to my youth, I realize that a lot of my body dissatisfaction began in adolescence (if not earlier). I remember leafing through magazines and feeling depressed at how fat I thought I was compared to the models or featured celebrities, and I know I'm not alone in this reaction.
In fact, over the years, many studies have been conducted to gauge the effect of the media on impressionable young girls. In a 2004 study published in the Journal of Advanced Nursing called "Adolescents' perceptions of popular teen magazines" concluded that that teen magazines send the message of perfection 'by portraying models with perfect eyes, teeth and bodies.'
The magazines provide ideals of thinness which are presented in a seemingly attainable fashion. Participants stated that magazines suggest that adolescent women need male attention for protection and companionship, in order to achieve fulfillment. Being healthy or whole seemed to be dependent on the adolescent reader embracing and becoming the ideals portrayed in teen magazines. (Abstract from Blackwell Synergy)
Although it seems to be a no-brainer that being bombarded with images of perfect beauty and thinness contribute to girls' negative body images, studies such as these may be finally prompting some teen magazines to start becoming part of the solution.
Seventeen Magazine's new 'girl' as of January 2007, Editor-in-Chief Ann Shoket, may be a refreshing new influence. Shoket, who posts daily on 'Ann's Blog', is launching a 'Body Peace Treaty' aimed to encourage teen girls to make peace with their bodies. On a recent entertainment news segment, Shoket said that it was probably too much to ask girls to 'love their bodies', but that she hope the treaty will help girls to stem their self-criticism.
The idea for the Body Peace Treaty came to Shoket who overheard a conversation by two teens trying on jeans dressing room. "'They make my butt look big'," Shoket overheard one girl lament. "It was such a heartbreak for me." The treaty, which will be online and in print, asks girls to vow not to obsess over their body shape, but rather "respect it for what it can do, treat it well and feed it well."
Shoket hopes to get a million girls to sign the treaty. However, it remains to be seen if this new approach really have any positive effect on teen girls' body image or ends up just being cosmetic good will gesture. The inherent problem of introducing such a treaty is that it does little to counteract the overall emphasis on beauty standards. For instance, Shoket doesn't say that the magazine will balance images of 'perfect' models with more realistic portrayals of women. And, notably, the August issue of Seventeen Magazine features an article on "The Best Jeans for Your Butt—And Budget!" Will articles such as these help those teens from the dressing room to stop obsessing about their bodies? Even if the treaty is a step in the right direction, a consistent message of body acceptance in both print and pictures is probably the only way to make a real - and lasting - difference.
By Laura Brooks
Tags: body image, negative body image, body peace treaty, Ann Shoket
Posted by Laura on August 24, 2007 | Permalink | Comments (2) | TrackBack
August 23, 2007
Healthy Recipe: Peach Stuffed Chicken
With peaches in season, you can savor healthy eating at its best! Peaches are packed with natural goodness and they're not only delicious, but incredibly nutritious. Several major nutrients, including vitamins A (beta-carotene), C and potassium are packed into each peach. Also an excellent source of fiber, peaches are good for blood sugar and keeping cholesterol low. They also provide natural plant compounds called flavonoids, which research suggests may help prevent cancer and heart disease. Today's healthy recipe from the Georgia Peach Commission will make you feel peachy keen!
Makes 15 appetizers
4 boneless chicken breasts
(skin removed)
4 thin slides of baked ham
2 Georgia peaches cut into
1/2-inch thick slices
3/4 cup Peach Honey (see recipe below)
1/2 cup grated mozzarella cheese
Place each chicken breast between two sheets of waxed paper and pound with a mallet or use a rolling pin to flatten. Cut chicken breasts in half or into approximately 2 1/2-inch wide slices so that when rolled will be appetizer size. Set aside.
Place ham slices in the center of a peach slice, add one tablespoon of Peach Honey, and one teaspoon of mozzarella cheese. Roll this mixture up and place on chicken breast. Roll up chicken breast and place seam side down in lightly greased baking dish. Place chicken breasts close together to prevent unrolling.
Bake for 20 minutes at 350°. Remove from oven and top each chicken breast with one tablespoon of Peach Honey. Return to 350° oven for 15 minutes or more. Chill before slicing crosswise into 1/2-inch slices.
Peach Honey
Makes eight two oz. servings
5 medium size fresh Georgia peaches, pealed and sliced
2 tablespoons honey
1 tablespoon cornstarch
1 tablespoon lemon juice
1/4 cup water
1/2 teaspoon almond extract
Process peaches in food processor or blender until smooth. Combine peaches and honey in saucepan. Mix together cornstarch, lemon juice and water; add to peach puree and heat until thick and bubbly. Stir in almond extract. Serve with Peach Stuffed Chicken recipe, over ice cream or pancakes.
For more healthy recipes check out the other delicious recipes listed on this blog or visit Green Mountain Healthy Living Recipe Favorites
Posted by Laura on August 23, 2007 | Permalink | Comments (0) | TrackBack
August 22, 2007
Healthy Weight Loss: It Would Be Funny If....

...it weren't so sad. Talking about NutriSystem's current ad campaign. Caught it in last Sunday's Parade magazine. Headline: We Lost the Weight -- Twice! Need I say more? Okay, I will. The ad then goes on to quote two 'success stories' (I call them victims). 'Julie" says she went from a size 14 to a size 6. Again. And Amy says she lost 33 pounds the first time and 23 pounds the second time. Then she exclaims, "This program works!"
Our good friend Josie Leavitt, who holds Humor Weeks at Green Mountain, says to find the humor in a situation because laughing often helps us feel better. But while I can laugh at NutriSystem and what seems like idiocy to me, I also feel like crying at the millions who are probably taken in by this ad. We can be fairly certain that the market research said this was a message that sells.
Posted by Marsha on August 22, 2007 | Permalink | Comments (3) | TrackBack
August 21, 2007
Is Your Child Inspired By Thin?
"Nothing tastes as good as thin feels." So say thousands of teenage girls across the country, known as pro-ana's (anorexia). In their world they look for thinspiration (abbreviated 'thinspo), from photos of skinny or bony celebrities or models. Sometimes taking the form of celebrities who have lost a great deal of weight. Thinspiration can apparently come from anywhere, books, quotes, song lyrics and films.
Whoa.
Thinspo videos currently number in the thousands on YouTube, FaceBook and MySpace. Accompanied by inspirational messages as the one shared above, which promote the idea of anorexic thinness as the ideal.
In case you feel out of touch (as I did), thinspo as defined by the ever popular online urban dictionary identifies the term as a combination of the words thin and inspiration.
And if you Google 'thinspo' you will find as the first link a photobucket account that shares many pictures of emaciated models and actresses accompanied by the following quote:
"View and share thinspo images and thinspo pictures and thinspo videos online. Find a great selection of thinspo photos"

These examples were given are:
Girl 1: My thinspo is this picture of Mary-Kate Olsen.
Girl 2: The Victoria's Secret models are my thinspo.
From the urban dictionary, the slang 'thinspo' is used by people suffering from eating disorders to help keep them inspired. Apparently, the idea behind thinspo is that it helps motivate and inspire you to lose weight and become or stay thin.
Thankfully, there is some hopeful news on the cyber-front. More on this story here.
Posted by Cindy on August 21, 2007 | Permalink | Comments (4) | TrackBack
August 17, 2007
Ain't Nothin' Like The Real Thing Baby!
How often do you find yourself acknowledging that the advice your mother or grandmother gave you was, in fact, based in scientific fact? Advice like, eat your peas and carrots!
New research just came out last week about a recent study from the Archives of Internal Medicine which was designed to see whether taking antioxidant vitamins (in pill form), helped certain women's heart disease risk. This, because antioxidants have been getting great press over the last several years regarding it's ability to kill free radicals and help the fight against heart disease. It is believed that antioxidants prevent oxidation where compounds within the body are altered at the molecular level. They then become free radicals, which can place stress on healthy cells.
In question were vitamin C, E and beta carotene and the study revealed antioxidants in pill form offered no heart benefit to women at risk of cardiovascular disease. Foods containing those antioxidants, on the other hand, have been found to reduce heart risk.
So, forget the pills for now, and consider eating lots of citrus fruits, green peppers, broccoli, seeds, nuts, fish, green leafy vegetables, eggs, chicken and garlic, and whole grains.
Just like your mother told you to.
Posted by Cindy on August 17, 2007 | Permalink | Comments (0) | TrackBack
August 16, 2007
Healthy Recipe: Walnut Basil Pesto
It's time to start thinking creatively about that great crop of basil you have growing in your garden or herb pot. Or if you don't have a garden, it's in abundant supply at your local farmer's market. This version of pesto -- Walnut Basil Pesto -- is a popular condiment served at Green Mountain at Fox Run.
Healthy eating doesn't mean skimping on flavor! Very versatile, you can use this pesto to top fish, chicken, tofu, or pork, or use it as a spread in wraps or sandwiches, added to salad dressings or mixed into pasta dishes.
Makes about ½ cup pesto
1/4 cup toasted walnuts, cooled
1 1/3 cup packed fresh basil
1 teaspoon lemon juice
1 tablespoon maple syrup
1 small clove garlic
2 tablespoons olive oil
1/4 teaspoon salt
1/4 teaspoon black pepper
2 1/2 tablespoons parmesan cheese
Heat oven to 350 degrees. Spread walnuts on a baking sheet and bake 8- 9 minutes; cool. Put walnuts in a food processor and pulse until consistency of coarse meal. Add remaining ingredients except parmesan cheese and pulse until coarsely chopped. Add cheese and pulse again just until pesto is
combined. Pesto can be stored in the refrigerator for about a week or in the freezer for several months, so you can have it handy for other healthy recipes anytime!
For more healthy recipes check out the other delicious recipes listed on this blog or visit Green Mountain Healthy Living Recipe Favorites
Posted by Laura on August 16, 2007 | Permalink | Comments (1) | TrackBack